News
Junior golfers show championship form in tourney
Golfers from all over the world compete in the IMG Junior Golf Tour
23 May, 2011
By: Jason Dill
Bradenton Herald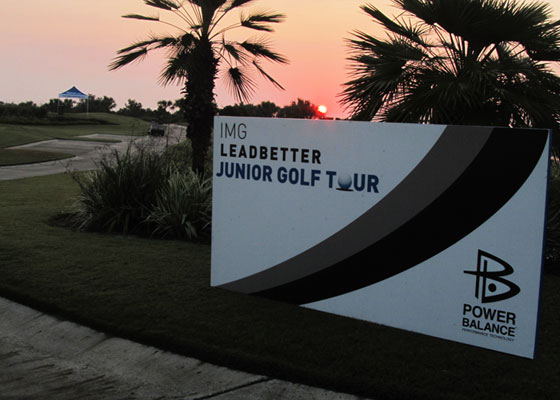 LAKEWOOD RANCH -- Kelly Tan left her native Malaysia in February for sunny Florida and a chance to improve her golf game at the esteemed IMG Academy golf program.

At the IMG Junior Golf Tour's Power Balance Tour Championship on Sunday, Tan showed just how deadly she can be.

The two-day, 36-hole tournament at the Ritz-Carlton Members Golf Club featured four age divisions with Tan playing in the girls 15-18 year old bracket.
The 17-year-old, making just her second tour start, fired a final-round 70 to tie Lisa Kang with a 145 total.
The sudden-death playoff lasted one hole, with Tan sinking about a 15-foot birdie to claim her first tour title.
"It was downhill, left-to-right," she said. "I was there exactly (Sunday), the first hole, it was exactly the same putt -- downhill left-to-right. I am stroking the ball so well and, yeah, it went in."
Kang, of Honolulu, gave Tan an opening after sending her approach on No. 1 off the green.
She nearly chipped in, running the ball a few feet past the cup.
That set up Tan's chance for victory, which she converted following an accurate wedge shot just past the pin.
"It was 104 (yards) to the flag, and it was 112 to the back," Tan said. "So I told myself, if I hit my pitching wedge -- it goes about 110 if I hit it really good -- it normally goes 108, and I know it would dip back."
Chilean Cristobal Del Solar squandered a first-round lead in the boys 15-18 division, after closing his final nine holes with a 40.
He posted three consecutive 35s, before the 4-over par back-nine dropped him to fourth place.
Del Solar shot even-par 72 in last Monday's U.S. Open local qualifier at the Ritz, and despite not progressing, his round served as a momentum builder for this weekend's season-ending event.
"In the Open qualifier, the greens were so fast," Del Solar said. "I think that helped me a lot."
Zheng Liang posted a 3-under par 69, including a back-nine 35 to erase a two-shot deficit for victory over Del Solar, while Bradenton's Jin Zhang claimed runner-up honors -- one shot behind Liang -- with a 143 total.
David Gao (boys 11-14, 71-74--145) and Phoebe Zhao (girls 11-14, 73-80--153) won the two other divisions.
Zhao also was named player of the year for her age group as the tour wrapped up its inaugural season.
Other players of the year winners were: Juan Veloza (boys 15-18), Brett Beazant (boys 11-14) and So-Young Hwang (girls 15-18).
All four players of the year are IMG Academy students.
"It was a very successful year," world-renowned teacher David Leadbetter, whose namesake is attached to the tour, said. "I think, obviously, coming out of the blocks originally I thought we'd do more all over the country, but they are sort of localized a little bit in Florida. I think initially that's the best plan ... there's teething problems as with any new venture. (IMG director of events) Blake (Ulrich) and (tournament director) Andrew (Parr) have done a great job. Just the little touches. The water coolers, the signs. It just looks like a real tournament. The goal is, obviously we have a lot of IMG kids playing in it, but the goal is to get more and more non-IMG kids. We're starting to see that now."
Leadbetter said the aim for the tour is to become a feeder for the AJGA like the Nationwide Tour is to the PGA Tour.