News
IMG Junior Golf Tour wraps up season two with exciting finale at The Concession Golf Club
UNC commit Keagan Cummings wins Boys 15-18, Jordan Lippetz wins Girls 15-18 and Newport Laparojkit wins Boys 11-14
15 May, 2012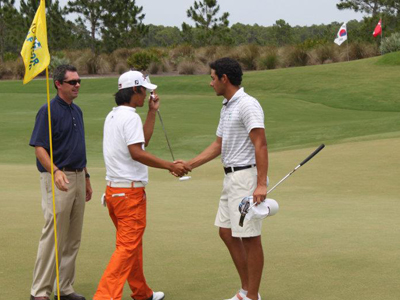 The IMG Junior Golf Tour finished its second season in high style this past weekend at The Concession Golf Club in Bradenton, Fla. IMG Academy student Keagan Cummings surpassed Tzu-Wei Lin in a sudden-death playoff on the second playoff hole on Sunday. Cummings entered the final round with the lead after battling 20mph winds on Saturday, but Lin put up a strong fight on Sunday, before relenting in the playoff. Their training peer, Prem Samritpricha finished three strokes behind in a three-way tie for third, along with Esteban Castro of Columbia and Spencer Schultz of Bradenton, Fla.

Cummings is one of the top-50 juniors in the nation and has been a student at IMG Academy for the past two years. He will play for the University of North Carolina in the fall. Samritpricha has spent the past five years at IMG, where he earned a place among the Golfweek Top-100 Recruits in the nation, before committing to the University of Kansas.
IMG Academy' Jordan Lippetz turned in a convincing victory in the Girls 15-18 division, shooting a 78+69=147 (+3). Lippetz's score put her eight strokes ahead of second place. Fellow training peers Symba Xu (+11) and Alex Wright (+11) tied for second, while Bolivian Natalia Pérez (+12), who made her pro debut on the Symetra Tour earlier this April, finished in fourth, one stroke away from tying for second. Pérez will play for top-20 golf program Baylor in the fall.
Newport Laparojkit won the Boys 11-14 division, cruising through the weekend shooting 77+73=150 (+6). Laparojkit, of Thailand, joined eighty-two other players from twenty different countries who competed in the season-ending event at The Concession Golf Club. Designed by Jack Nicklaus in collaboration with Tony Jacklin, the host course was named 'Best New Private Course of 2006' by Golf Digest, and holds one of the highest Course and Slope Ratings by the United States Golf Association.