News
IMG Junior Golf Tour rolls on at LPGA International, Oct. 6-7
James Leadbetter sets Tour record for nine-hole total in Boys 15-18 division; 15-year old Ailin Li takes over Symetra Tour points race with Girls 15-18 win
09 October, 2012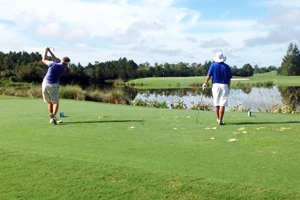 The IMG Junior Golf Tour's second stop of the season concluded on Sunday at the LPGA International, held in Daytona Beach, Fla., Oct. 6-7. Inclement weather on Saturday caused a suspension of play, and the tournament was shortened to 18 holes, wrapping up on Sunday. Spain's Ignacio Dopereiro shot under par on both days to win the Boys 15-18 Division with at 69 (-3). It was Dopereiro's first career victory in the IMG Junior Golf Tour. Remec Carlson finished second with a 72 (E).

"I stayed focused, even though it was only one 18 hole round," said Dopereiro of his win. "We played over two days and I was under par both days, so I was playing well. I'm happy to get my first win on this prestigious tour."
James Leadbetter made things interesting in the Boys 15-18 when he dug himself out of a hole on the back-nine. On Saturday, he finished with a 43 (+7), and returned to the links Sunday to tally an impressive 30 (-6), setting an all-time IMG Junior Golf Tour record for a nine-hole total. Leadbetter's late surge allowed him to tie for third with Clark Robinson of South Windsor, Conn., each finishing with a total of 73 (+1).
"I had nothing to lose – I was trying to birdie every hole, so it just goes to show you can never give up," commented Leadbetter on his record setting performance.
The Boys 11-14 Division was decided by a two-hole sudden death playoff between Singapore's Qi Ming Wong and Japan's Shuhei Takahashi after they each finished their round with a 73 (+1). Takahashi prevailed to earn his first career IMG Junior Golf Tour win.
Ailin Li of Windermere, Fla., took over the top spot in the Symetra Tour Exemption Race with a round of 70 (-2). It was Li's third career IMG Junior Golf victory, after winning two events last season.
The IMG Junior Golf Tour's second stop took place at the Champions Course at LPGA International, which has hosted countless events including the NCAA Women's Regionals, the Symetra Tour Championship and the final stage of LPGA Q-School. Champions of the Boys and Girls 15-18 Divisions earned four stars and the top five Boys earned one star toward American Junior Golf Association (AJGA) Performance Based Entry.
For full results, visit the IMG Junior Golf Tour leaderboard by clicking HERE